Pure silver is defined as 99.9% pure silver, but it is too soft for most uses. And 925 sterling silver is actually a silver alloy. 925 sterling silver contains 92.5% silver, and the remaining 7.5% is another metal, the most common being copper. Adding a lower-cost metal-used to harden the resulting alloy so that the metal can be cast into a shape that will remain unchanged during use.
Pure silver loses its luster as long as it comes in contact with air.
Pure silver, like gold, does not discolor or oxidize the surface.
It is an alloy metal that attracts corrosion.
Rub a piece of visibly shiny sterling silver with your thumb,
and you may find faint smudges on your skin,
which indicates that 925 sterling silver is beginning to lose its luster.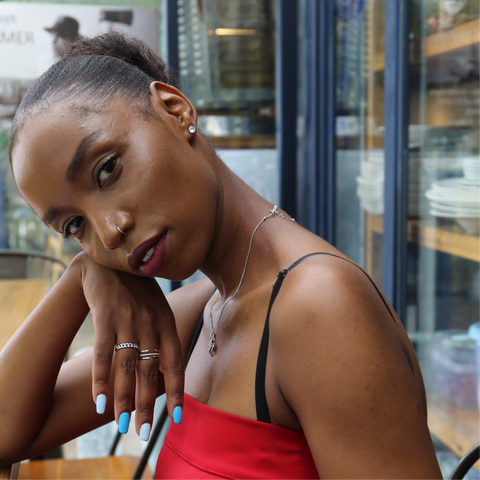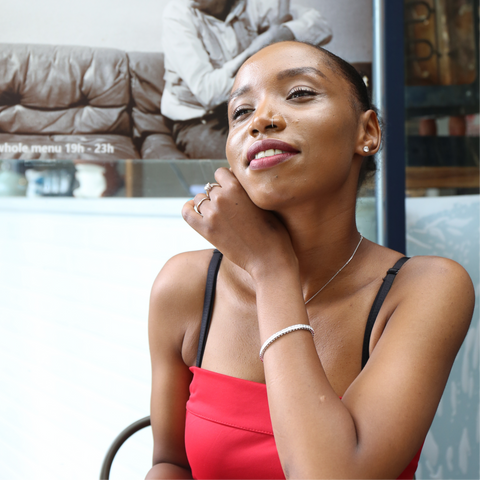 Your 925 sterling silver only needs to be polished regularly with a cotton cloth to keep it shiny.
925 sterling silver that has not been used for a period of time may have a significant rust and requires polishing paste.
In addition to polishing paste, you can also try the following techniques.
Put the tin box in the sink, fill it with hot water, and add some salt and baking soda. The ratio is not important here, just put a few teaspoons. Next, put the silver into the water so that the silver flakes are in contact with each other and the tin foil. The rust will peel from the silver to the foil, and if the rust is severe, you will be able to see it peeling off. Leave it for no more than five minutes, rinse and dry.
We design for life, create for the world.
---
Description

Life With MaK's Honeycomb & "Bee" Kind Jewelry Set

ASMR creator on YouTube, Account name: "Life with MaK" who is often seen eating and making tingle-inducing sounds in her videos. She has accumulated more than 1.6 million subscribers on her channel. She is also a model and an actress. Her first video to go "viral" was her eating raw honeycomb in her bedroom. This video is what inspired her first personally inspired and co-designed jewelry collection. Her viral raw honeycomb video accumulated more than 14 million views. 

Her love for ASMR, fashion, and aesthetics led her down the jewelry avenue.

Simplistic, wearable, and definitely Instagram aesthetic pleasing Life With MaK Honeycomb & "Bee" Kind collection is on a mission to define 'understated beauty

Honeycomb With Honey Ring Earrings Necklaces Jewelry Sets preserves their elegance as jewelry-like accessories. The unique tiny honeybee & honeycomb pattern is very eye-catching and shows your fashion and amazing taste.

Tired of choosing a gift? These tiny lovely and elegant earrings are ideal for your girlfriend, fiancee, wife, mother, or friend as a gift for Mother's Day, Birthday, Valentine's Day, Anniversary, Thanksgiving Day, Graduation, etc.

PREMIUM QUALITY Premium cubic zirconia, and a 14K Gold Plated long-lasting finish that is nickel-free, lead-free, and hypoallergenic

MADE WITH LOVE Celebrate the special woman in your life! This unique and heartfelt fashionable product is beautifully packaged and ready for gift giving. Our jewelry makes a sentimental surprise and a great gift for birthdays, anniversaries, Mother's Day, or wedding celebration




Trendolla is a one-of-a-kind luxurious jewelry brand that offers 18K gold plated rings. that only offers the best quality of products. They are known for their range of rings, which come in various sizes.

This particular product is a ring that is great for an everyday look.
Join the natural awake and get into a journey of wildlife's deep beauty.

Packing included:
1. necklace
2. set of earrings
3. ring

 SKU#SET87462R+SET87464N+SET87464E