Paperclip Chain Necklace —— Enhance Your Fashion Style
How Can a Gold Paperclip Chain Necklace Enhance Your Style?
Gold paperclip chain necklaces have been popular for a long time because they are simple, beautiful, and easy to wear on their own. We can say they are almost universally wearable for all occasions. There are now many popular influencers wearing gold paperclip chain necklaces on social media platforms. They're being widely copied as well.
Girls will absolutely love this trendy necklace because it goes with everything, and is simple to layer with other necklaces. It's their favorite!
$62.50

Who Can Wear a Gold Paperclip 

Chain Necklace?

A gold paper clip necklace isn't too sophisticated or showy so it can be worn by anyone.

Paper clip necklace is a fabulous choice for every girl—— the paperclip necklace trend. Get one for yourself or give one as a gift to your special friend, daughter, or mother.

You'll instantly feel modern and chic when you own this Blake Gold Filled Paperclip Chain Necklace this year for yourself or as a gift. You can easily wear it on every occasion with many ways to wear it.

                                        
Paper Clip Jewelry: Style Revamped
This paper clip necklace might be just a fashion trend, but you'll never know. If you like this look, just go for it!
Paper clip jewelry is actually a classic that was invented by Coco Chanel. It has been adopted and revived by so many people because it's a piece of art that works.
Paper clip necklaces have become popular in the past few years.
Available in yellow and white gold, as simple or intricate as you like, the paper clip is a popular choice for bridesmaids, groomsmen, and wedding favors.
Why We Love The Paper Clip Jewelry?
A paper clip necklace is an excellent jewelry design, perfect for work or fun.
You can jazz it up with a locket or something similar to close the piece, wear it in white or yellow gold, and pair it with both casual and fancier looks.
Necklaces have always been a popular style of jewelry, but now you can also find these pieces as bracelets and earrings.
It's a stylish statement necklace you can wear to work!
This fashion statement goes well on its own, but we love that it looks great worn with diamond and gemstone jewelry.
No matter what color, shape, or size, they all work because the paper clip is so versatile.
Get yours now while they're super malleable.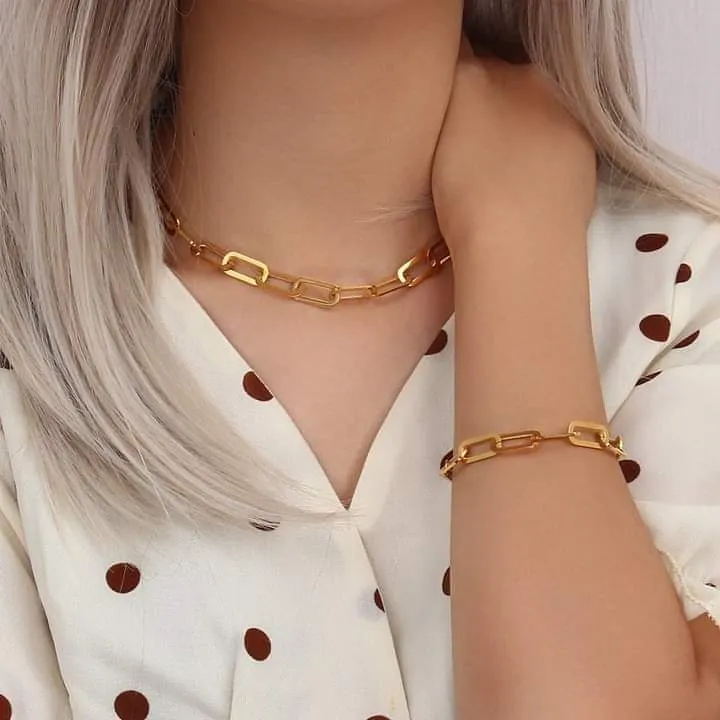 How To Wear Paper Clip Jewelry?
You'll love this easy-to-wear style for wearing alone, layered or with multiple other styles.
But another reason to love this style is that it works in both short and long lengths.
If you're thinking, "I can only pair this with other modern pieces," think again.
This looks great in a variety of colors, patterns, shapes and sizes.
This is the perfect way to express your personal style. No one else will look like you!
These days, paper clip jewelry is a look that continues to top the list of the latest trends.
It's no wonder that every celebrity, from actors to models to singers, are loving this new hairstyle.
What Length is Best?
Choosing the length of a necklace and specifically a chunkier chain necklace is about more than just your style. There are several things to consider when picking the perfect necklace.
In case you have a round or oval face, 20-25 inch lengths will elongate and be most flattering.
For women, especially those with a heart-shaped face, short hair styles will elongate the appearance of a round or square face. It'll also soften angles and draw attention towards the forehead and cheeks.
As you get taller, necklace lengths become more dramatic and longer necklines are more flattering.
You need to be sure you are buying the right necklace for your figure. If you have a pear-shaped body type, go for necklaces that sit lower in the neck than a V-neck.
If you want to wear athletic body styles, consider wearing long necklaces, especially if you have a longer body.
Pear-shaped women should wear necklaces that are 18-24 inches to broaden the shoulders.
Longer chains look good on those with an Inverted Triangle body type. Necklaces up to 5 inches are still trending.
No matter your face shape, height, or body style, these necklaces are sure to flatter you.
Are you ready to add a paper clip chain necklace or bracelet to your jewelry collection?
Browse our store for ideas and inspiration.
With our expert team of jewelers, we have everything to help you choose the right style, length and price for your costume jewelry.
We design for life, create for the world.
---
Description

Life With MaK's Honeycomb & "Bee" Kind Jewelry Set

ASMR creator on YouTube, Account name: "Life with MaK" who is often seen eating and making tingle-inducing sounds in her videos. She has accumulated more than 1.6 million subscribers on her channel. She is also a model and an actress. Her first video to go "viral" was her eating raw honeycomb in her bedroom. This video is what inspired her first personally inspired and co-designed jewelry collection. Her viral raw honeycomb video accumulated more than 14 million views. 

Her love for ASMR, fashion, and aesthetics led her down the jewelry avenue.

Simplistic, wearable, and definitely Instagram aesthetic pleasing Life With MaK Honeycomb & "Bee" Kind collection is on a mission to define 'understated beauty

Honeycomb With Honey Ring Earrings Necklaces Jewelry Sets preserves their elegance as jewelry-like accessories. The unique tiny honeybee & honeycomb pattern is very eye-catching and shows your fashion and amazing taste.

Tired of choosing a gift? These tiny lovely and elegant earrings are ideal for your girlfriend, fiancee, wife, mother, or friend as a gift for Mother's Day, Birthday, Valentine's Day, Anniversary, Thanksgiving Day, Graduation, etc.

PREMIUM QUALITY Premium cubic zirconia, and a 14K Gold Plated long-lasting finish that is nickel-free, lead-free, and hypoallergenic

MADE WITH LOVE Celebrate the special woman in your life! This unique and heartfelt fashionable product is beautifully packaged and ready for gift giving. Our jewelry makes a sentimental surprise and a great gift for birthdays, anniversaries, Mother's Day, or wedding celebration




Trendolla is a one-of-a-kind luxurious jewelry brand that offers 18K gold plated rings. that only offers the best quality of products. They are known for their range of rings, which come in various sizes.

This particular product is a ring that is great for an everyday look.
Join the natural awake and get into a journey of wildlife's deep beauty.

Packing included:
1. necklace
2. set of earrings
3. ring

 SKU#SET87462R+SET87464N+SET87464E